Puffins return early to Northumberland's Farne Islands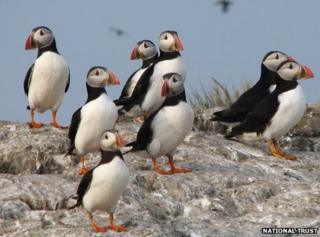 Puffins have started returning to their breeding grounds on the Northumberland coast two weeks early.
More than 500 were seen on the Farne Islands on Wednesday said the National Trust, which manages the site.
Lead ranger David Steel said the birds had not been expected until the end of March at the earliest.
"This is in complete contrast to the previous season when birds did not start returning until early April," he said.
The RSPB said puffins had also returned early to Bempton Cliffs in North Yorkshire and were already flocking around Coquet Island, also on the Northumberland coast.
Spokesman Chris Collett said: "We think it is something to do with the weather but we're not sure exactly what."
The birds could have been enticed by good weather in the north-east of England or moved on by bad weather where they were, he said.
The Farne Islands are home to 40,000 pairs of puffins during spring and summer.
They open to visitors on 1 April.