Newcastle flood scheme could see River Ouseburn diverted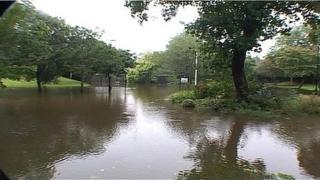 A river will be diverted if plans to protect up to 100 homes on Tyneside from flooding are approved.
The £5.5m scheme would see a 400m (1,312 ft) long channel created for the Ouseburn to flow away from homes in the Brunton Park area of Newcastle.
The area was last flooded in July, when torrential rain raised river levels in what was dubbed "Thunder Thursday".
The project is expected to start in the autumn once planning permissions and funding is approved.
Additional sewer pipes, an underground storage tank and a flood defence wall are also planned in a bid to cope with storm water.
'Devastating and distressing'
The project is backed by Northumbrian Water, the Environment Agency and Newcastle City Council.
Waste water director Richard Warneford, of Northumbria Water, said: "We appreciate how devastating and distressing flooding is and we are determined to do all we can to help prevent it.
"This is an unusual and sustainable solution to create a scheme which will be a great help in protecting homes in the area."
Phil Welton, flood and coastal risk manager for the Environment Agency in the North East, said: "The new river channel and flood wall will provide vital protection to homes in Brunton Park, and the scheme will also benefit wildlife with an increased wetland habitat."
Northumbrian Water's project manager Paul Davison added: "We appreciate that a scheme of this size and importance inevitably requires a considerable and lengthy amount of work in the roads in the area.
"There will also be increased site traffic and we will do everything we can to limit lorry journeys and times and where we can minimise any inconvenience on the roads."