Penshaw Monument: New floodlights for Wearside landmark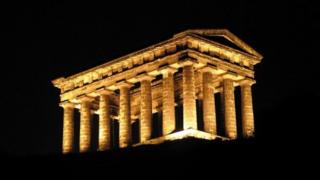 New floodlighting is to be installed at a Wearside landmark.
Costing £43,000, Sunderland City Council said replacing the existing lights at Penshaw Monument will save around £8,000 per year in running costs - a reduction of up to 80%.
Work is due to begin on Monday and is expected to be completed by the end of the month.
The new lights can be programmed to shine in red and white for football celebrations, the council added.
Councillor James Blackburn, portfolio holder for city services, said: "Many projects in our city see an initial outlay of capital and spending before we see investments paying off.
"We call this 'invest to save' and this work on an upgrading of the lights at Penshaw Monument is one of these projects."
Built in 1844 on Penshaw Hill between Washington and Houghton-le-Spring, the monument is a 70ft-high (21.3m) replica of the Temple of Hephaestus in Athens, Greece.
Officially known as The Earl of Durham's Monument, it maintained by the National Trust and illuminated each night.
The council said the works are being paid for by a government Salix loan, which is an interest-free loan that is paid back within five years with savings from the energy bill.