David Kochs death: Accused 'enjoyed inflicting pain'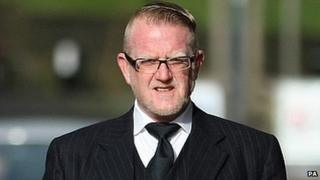 A former vet killed a man as they had sadomasochistic sex, before leaving his body under a duvet and having sex with another man, a court has heard.
Kirk Thompson, 46, is accused of the manslaughter of David Kochs, 43, at his home in Dulverton Court, Jesmond, on 2 March last year.
Newcastle Crown Court heard the men made contact on the internet.
Mr Thompson denies manslaughter, unlawful wounding and assault, but has admitted possessing crystal meth.
The court heard Mr Thompson is said to have burnt and cut Mr Kochs and caused severe internal injuries.
'No limits'
Robert Smith QC, prosecuting, warned the jury the case would be "a very disturbing one."
He said both men had been taking the drug crystal meth when they engaged in the violent episode and Mr Thompson "enjoyed inflicting pain on others".
The court heard that during the evening in question, Mr Thompson became aware Mr Kochs was dead or unconscious and covered him with a duvet on the floor of his living room.
He then had sex with another man he had also met online as the body of Mr Kochs lay in the flat.
The next morning, after the second man had left, Mr Thompson messaged his father and said: "Can you come down immediately, something tragic has happened, just you not Mum please ASAP."
On arriving at the flat, his father called for an ambulance and police arrived.
Mr Thompson told police he and Mr Kochs had engaged in "extreme no limits sex", but he believed Mr Kochs had been asleep and that was why he covered him with the duvet.
The case continues.