Legal action over Lynne Spalding US stairwell death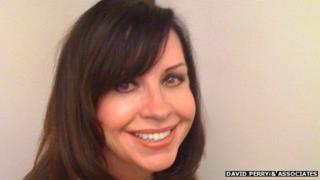 The family of a British woman found dead in the stairwell of a US hospital, have begun legal action for damages.
Lynne Spalding, from Haswell, County Durham, was found not far from her bed at San Francisco General Hospital last October, 17 days after going missing.
Lawyers for her two US-born children have filed a legal claim against the city seeking unspecified damages.
The claim alleges negligence on the part of the hospital and the city's Sheriff's Department.
Ms Spalding, 57, who moved to San Francisco several years ago and worked in the city's tourism and hospitality industry, was being treated for a bladder infection at the hospital.
Safety standards
Following her disappearance on 21 September, the hospital was searched and police opened a missing person investigation.
But it is now known Sheriff Department deputies failed to look in all the stairwells.
It later emerged the department had 30% fewer staff than usual.
This prompted an investigation in November by the Centers for Medicare and Medicaid Services, which monitors health and safety standards at hospitals in the US.
The hospital has now implemented a number of improvements, including new patient tracking systems, daily security checks of emergency stairwells and improvements in the treatment of at-risk patients.
The family's lawyer, Haig Harris, said he expected the claim to be decided in court.
The San Francisco City Attorney's Office said it was "too early" to comment on the family's claim.