Great North Passion: Easter in a shipping container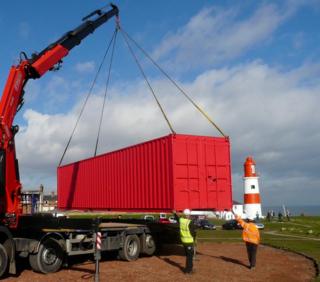 Twelve shipping containers have been placed around the north-east of England. They will be turned into art installations for a live Easter programme on BBC One on Good Friday.
In a car park on the South Tyneside coast an assortment of artists, photographers, retired fishermen and BBC producers is waiting for a four-tonne box.
Crane operators in hard hats are preparing to move this 40ft (6m) shipping container from the back of a lorry onto the gravel next to Souter Lighthouse.
As it hangs in the air someone jokes that, if it falls, a hard hat is not going to save anyone. The expectant silence is broken only by the click of camera shutters.
This steel box, and eleven others like it, have been placed in locations across Northumberland, Middlesbrough, Tyneside and Wearside.
Each has a dedicated artist who, with their community's help, will transform it to reflect Christ's trial and death through the stations of the cross.
The adorned dozen will then join 60 others to form a crucifix in Bents Park in South Shields on Good Friday, for a televised event with music, performances and a documentary.
Nobody seems fazed by the enormity of the project. The artists are used to making things that are big and unusual.
Patrick Murphy, who is working on a container in Ashington, covered the Walker Gallery in 250 pigeons for the Liverpool Biennial.
There is also Richard Broderick, who put a 66ft (20m) bird on a crane and floated it up the River Tyne on Millennium Eve.
Broderick says crowning his 20ft (3m) box with a fishing boat - pale blue, with a net made by retired fishermen from North Shields Fishermen's Mission - is a "long way off the weirdest thing I've ever done".
"I've covered seven-and-a-half-tonne trucks in ships that sailed through Derry - literally through the streets," he says.
This experience will come in handy - he is planning to float his shipping container up the River Tyne from North to South Shields in time for Good Friday.
The imagery is simple, he thinks. St Peter is depicted as a fisher of men and Pilate is shown questioning Jesus on the meaning of truth.
"It's meant to be quite thought provoking, but not mysterious," he says.
Raymond Morse, chairman of a retired fishermans' club, will be helping with the nets. He remembers a time when there were more than 100 trawlers fishing out of North Shields.
"All I've known all my life is fishing, nothing else," he says. "I first went to sea on a fishing boat when I was three. For two years before I went to school I was on a fishing boat."
In Ashington, Murphy's container will draw parallels between Christ being stripped of his clothes and the north east being "stripped of industry".
Inside will be a 30ft table representing work, mealtimes and community. At the back, there will be the word "hope" shown in neon.
As a Christian, he is conscious of the part his faith will play in his art.
"The 'hope' aspect is the ultimate part of it for me," he says. "We don't want this piece to be about the past - we want to reference the past but it needs to be about the future really."
The Great North Passion is being produced in partnership with the Cultural Spring, a £2m Arts Council project to get more people involved in the arts in Sunderland and South Tyneside.
BBC producer Heenan Bhatti said he wanted to tell the Easter story "respectfully but also in an innovative way".
"Two millennia ago Jesus walked the Via Dolorosa to his death but it is a story that has, within those steps, contemporary themes of love, of loss, of self sacrifice," he says.
"Whether you're of the Christian faith or different faiths or of no faith, those are the kind of themes that mean something to everyone."
The Great North Passion will be broadcast on Good Friday, 18 April on BBC One.
The event is free - application for tickets can be made online or in person at the Customs House.