Allen Banks 'wobbly bridge' appeal reaches target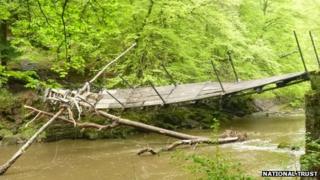 An appeal to restore a Victorian bridge that forms part of a Tyne Valley woodland trail has reached its target three days before the deadline.
The structure at Allen Banks, known as the wobbly or bouncy bridge, was damaged by trees and debris washed downstream during heavy rain in May.
The National Trust had until Thursday to raise £10,000 as part of a special public Crowdfunder appeal.
This can now be added to the £35,000 already pledged from other sources.
The suspension bridge is one of the only surviving features of the wilderness garden created in 1850 by Susan Davidson as part of the Ridley Hall estate.
Allen Banks has been classed as a Site of Special Scientific Interest because of its rich plant and animal life, and the walks along the river gorge through the ancient woodland attract about 50,000 annual visitors.
The National Trust said: "We chose this way of raising funds as we know the Victorian suspension bridge at Allen Banks is close to many people's hearts.
"We want to recognise everyone who helps to rebuild it."