Newcastle's Hoppings fair returns as dispute resolved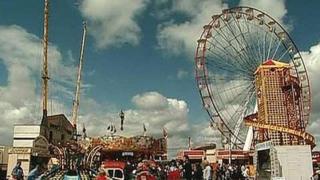 Newcastle's Hoppings fair is to take place again after a row over rent and pitch terms was resolved.
Last year the annual funfair on the Town Moor, which first took place about 130 years ago, was cancelled.
Members of the Showmen's Guild have now voted to bring it back after resolving issues with the Freemen of Newcastle.
The Freemen, a conservation body mainly working to protect the city's green spaces, said they were "delighted" with the outcome of the talks.
When the event was cancelled last year, Guild spokesman Glenn Miller described it as "devastating".
But he said the vote had now been taken to lift the "out of order" on it.
"It's just a case now of turning over the page, a new chapter. Let's get on with it and get the fair going again."
Council assistant director for customers, culture and skills, Tony Durcan, said: "We're delighted the embargo has been lifted.
"We now look forward to discussions to see what might be possible for 2014."
The Freemen said the Hoppings would start on 20 June and run until 28 June.