Durham Police to spend £300,000 moving listed mast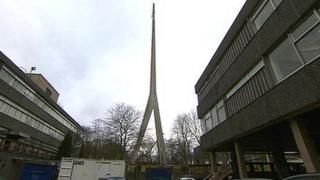 Durham Police is to spend £300,000 relocating a communication tower after being told it could not demolish the listed structure.
The force is due to move to a new headquarters on the outskirts of Durham City in August, with the existing site sold off for housing.
But it says land values could fall by £1m if the 162ft (50m) tall concrete mast stays where it is.
The 1960s mast will now be dismantled and rebuilt at the new headquarters.
The mast was built and designed by Sir Ove Arup between 1965 and 1968. Arup was also responsible for the Sydney Opera House and the Pompidou Centre in Paris.
'More money'
Durham Police said the cash outlay would be cost effective in the long-run.
The force's assistant chief officer, Gary Ridley, said: "With the mast being listed it means we cannot demolish it and therefore we are gong to have to spend in the region of £300,000 to get it moved.
"But the good news is that this will increase the capital value of the land on which it now stands, which ultimately will mean more money to spend on policing."
The force had applied for permission to demolish the mast in 2012, but was blocked after objections from English Heritage and the City of Durham Conservation Trust.
Trust secretary Dr Douglas Pocock described the mast as "a fine sculptural form", which should not be "prematurely destroyed."
When it was listed, English Heritage described the mast as an "elegant, ultra-thin design" which "responds to its aesthetically sensitive site overlooking Durham Cathedral".