Ear-bite actor Clive Mantle was like 'big monster', court told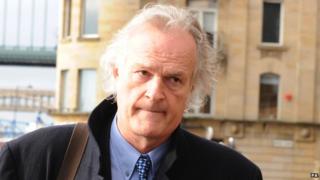 A man accused of attacking former Casualty actor Clive Mantle said he was defending himself from a "big monster" he thought was going to kill him.
Philip McGilvray, 33, admits biting Mr Mantle's ear but says he was acting in self-defence after being pinned down in the corridor of a Travelodge.
He told Newcastle Crown Court the actor knocked him to the floor in an attack that felt like "being hit by a car".
Mr McGilvray and Alan French, of South Lanarkshire, deny wounding with intent.
Bouncer 'swallowed ear'
The 56-year-old actor - who also featured in HBO drama Game of Thrones - was working locally and staying in the Quayside Travelodge on 24 March.
His alleged attacker told the court he was ashamed by his actions because he had also had part of his ear bitten off by a bouncer - who then swallowed it.
Mr McGilvray, of Arbroath Grove, Hamilton, told the jury he had been drinking with his friends since the afternoon and had returned to the hotel with Mr French, 32, of Forrest Gate, in the early hours.
The pair then began walking along the hotel corridors looking for French's room, McGilvray said, and that was when he became aware of the actor coming out of his room to tell them to be quiet.
"I turned around and the next thing I was taken out by this big guy. I'm not sure if he punched me or clothes-lined me," he said.
"It was like being hit by a car. I was on my back and Mr Mantle was straight on top of me.
"All I had done was speak to some girls and then I had a big monster on me.
"I don't know why I did it, I could not get away, I did not know what he had in his hands - I thought he was trying to kill me."
'Not human'
Mr McGilvray admitted he had previously been convicted of assault and that his brother had been stabbed to death in the street.
Jolyon Perks, prosecuting, said: "You did it because when you are drunk your character changes and you decided that you were going to disfigure him."
Giving evidence, Mr French also denied the actor's version of events and said he had tried to stop Mr Mantle attacking his friend.
He told the court he was not aware at the time that McGilvray had bitten the actor's ear, an act he described as "not human".
He also denied punching Mr Mantle in the head.
But the prosecution asserted Mr French had failed to explain what it was that had caused the actor to react in the way he did.
The trial continues.