Tyne pedestrian tunnel revamp faces further delays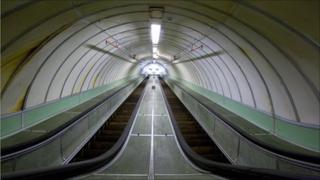 Work on the refurbishment of the Tyne pedestrian and cyclist tunnel is facing further delays.
The Grade II-listed structure, which connects Howdon and Jarrow, closed for the £4.9m project in May and was due to reopen in the summer.
Specialist contractors were brought in after asbestos was discovered, but it has now been found that the problem was worse than anticipated.
The tunnel is now due to reopen in February 2015.
A free replacement shuttle bus and night service for shift workers will continue to operate during the closure.
One of the features of the refurbishment will be the replacement of two of the original wooden-step escalators with inclined lifts.
Paul Fenwick, project director, said: "Conditions in the tunnel have proved a lot worse than we anticipated.
"Major works to treat asbestos-containing materials, the presence of which we could have had no knowledge of before the works started, are now necessary if the tunnels are to continue to be an important transport link for future generations."