Northumberland green-belt homes plan causes concern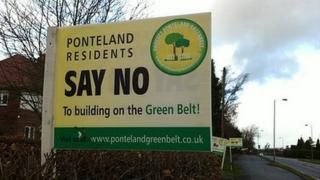 A proposal to build 24,000 new homes in Northumberland - some on green-belt land - has angered campaigners.
Supporters said the plan would tackle a housing crisis and create jobs.
The Labour-controlled county council says about 30% of the homes, to be built over the next 20 years, would be "affordable" and for rent.
Critics argue the plan, which includes building 10% of the homes on green belt land, could destroy the character of some towns and villages.
The plans are out for public consultation until the summer.
'Developers' charter'
Among those unhappy is Alma Dunigan, of Ponteland Green Belt Group, where 850 new homes could be built, including some on the green belt.
She said: "The green belt is there for a unique reason and especially when it keeps Ponteland away from the encroachment of another town. We've got to remember Newcastle is a city and it's extremely close."
Labour councillor Alan Hepple, who has responsibility for housing, said he appreciated people's concerns, but said the homes would boost the county's economy and help the 8,000 people on the council, or social, housing waiting list.
He said: "I have to stress, in those sorts of areas like Ponteland and Hexham - where house prices are really expensive, there is a real need for affordable housing.
"What you're not hearing is what I might call a 'silent majority' who are waiting for that kind of accommodation and can't get it."
Claire Wallace is among those on a waiting list.
She lives in a three-bedroom house with her partner and her four children in Amble and is angry that people are trying to block the plans.
"If they lived a day in our shoes they would know because it makes my life hard," she said.
Conservative opposition group leader Peter Jackson said: "What we've actually got is a developers' charter from Northumberland County Council.
"They've fallen hook line and sinker for every single site that the developers have put up - and they want to do nothing but concrete over our very valued green-belt areas."