Clive Mantle: Ear-bite attackers 'like hyenas'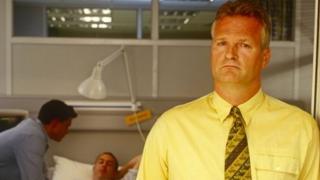 Former Casualty actor Clive Mantle has told a court how his ear was partly bitten off in an attack by two men who felled him "like two hyenas bringing down an old water buffalo".
Giving evidence at Newcastle Crown Court, he said it happened in a hotel corridor after Philip McGilvray, 33, and Alan French, 32, had woken him up.
He said a "melee" ensued as he tried to push past them to take his complaint to Newcastle Quayside Travelodge staff.
The pair deny wounding with intent.
'Absolute pearlers'
The 56-year-old Game of Thrones star, who was working locally, told the court his ear was bitten three times outside his room in the attack on 24 March.
He said he had twice asked the men to be quiet and was on his way to the hotel's reception when they laid into him.
Mr Mantle said the pair threw many punches, landing "four absolute pearlers".
"I remember being attacked by two men with every blow they had in their armoury," he told the court.
The actor told the jury his ear was bitten while he was pinned to the floor.
But Robin Patton, defending Mr McGilvray, accused Mr Mantle of losing his temper and running at the two men, who are both from Hamilton.
He said the actor knocked Mr McGilvray to the ground and ended up on top of him.
"You took out Philip McGilvray, he did not stand a chance and with your weight, you took him to the ground," Mr Patton said.
The actor replied "absolutely not" and said he was "flabbergasted" at this claim.
'Ear on carpet'
On Tuesday, Mr Mantle told the court that his "guardian angel" Alice Klenk, a nurse who was staying at the hotel, had heard the fighting and came out of her room.
She grabbed the drunken defendants by the scruff of the neck to stop the attack, the jury heard.
Mr Mantle told the court that after her intervention he "looked down on the floor and there was my ear lying on the carpet".
The prosecution has said there is no dispute about what Mr McGilvray did and that Mr French faces the same charge because of his joint responsibility.
The trial continues.