Clive Mantle: TV actor's ear bitten 'in row over noise'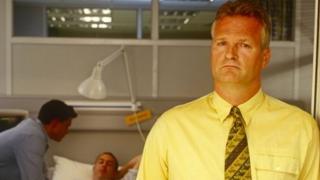 Former Casualty actor Clive Mantle had part of his ear bitten off in a row over noise at a hotel, a court has heard.
Newcastle Crown Court was told how the actor, 56, was woken by shouting in the corridor outside his room in the Quayside Travelodge on 24 March.
When he asked Philip McGilvray, 33, and Alan French 32, to be quiet, the pair "laid into him", the jury heard.
Both men of Hamilton, South Lanarkshire, deny wounding with intent.
The actor, who played surgeon Mike Barrett in the BBC medical dramas Casualty and Holby City, had been appearing at the city's Theatre Royal when the incident happened at 04:30 GMT.
'Thumb in eye'
He was on the way to reception to complain when the two defendants "deliberately blocked his path", the court heard.
Mr Mantle claimed he put his hands out to force a gap through them.
"Immediately, my arms were caught," he said. "I had one man on each arm and I couldn't free myself.
"It was then that a tussle, a jostle, and me trying to free myself, turned into a melee."
French pinned him down, he said, and McGilvray was to his side.
"The next thing I was aware of was a pain in my left ear which triggered a massive response within me," he said.
"The adrenaline it gave me enabled me to rip my right hand away.
"The only thing I could do is put my thumb in his eye socket to make him release," the court heard.
Mr Mantle lifted his long, grey hair to show the jury his disfigured left ear at the request of the prosecution.
'Flurry of punches'
Mr McGilvray, of Arbroath Grove, and Mr French, of Forrest Gate, were visiting Newcastle with friends and had been out drinking.
Jolyon Perks, prosecuting, said: "He [Mr Mantle] told them he needed to get past and placed his hands between them, and tried to force his way through, perhaps not unreasonably considering the situation he was in.
"At this point they both decided to grab his arms and set about him. Both men threw a flurry of drunken punches, some landed, some didn't.
"Ultimately, it ended with him being dragged on the ground face down."
Mr Perks said the row had "culminated with a substantial part of his ear being bitten off".
The trial continues.