Veteran BBC radio broadcaster Frank Wappat dies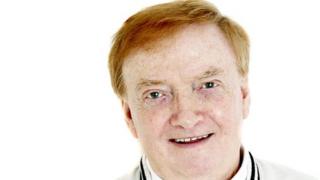 Veteran broadcaster Frank Wappat has died at the age of 84.
The radio presenter, who worked for the BBC for 40 years, died earlier - on his birthday - at Newcastle's Royal Victoria Infirmary due to heart failure.
The former BBC Newcastle presenter retired in October 2010 due to ill health.
BBC Newcastle editor Andrew Robson described him as a "legend" on the station.
He said: "I didn't get the chance to work with him for too long but his name was synonymous with this radio station for decades.
"Frank retired due to ill health four years ago. Our thoughts are with his wife and family and friends at this difficult time."
In the past Mr Wappat said he was never tempted to leave the north east of England.
He said: "I see myself as a Geordie lad from Hebburn, I don't think I'd fit in with big establishments."