County Durham storm destroys 1,000 trees at Killhope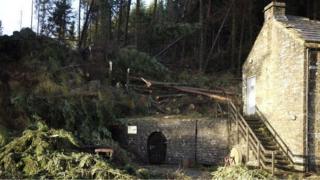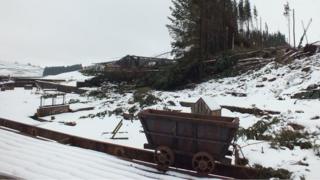 Woodland at a County Durham museum has been "devastated" after high winds destroyed nearly 1,000 trees.
The fir trees at Killhope's mining museum have been falling incrementally since Christmas, said manager Mike Boase.
But many were felled by blizzards and extreme high winds on Thursday.
Foresters are now working to cut down the remaining trees and make the area safe, Mr Boase said.
Mr Boase said: "We're at 1,500ft (457m) so we are used to extreme weather here.
"We always think we can anticipate the direction of the wind, but this year it swirled around in every possible direction, so it has surprised us."
Mr Boase said he hoped the red squirrel colonies that live in the forest would retire to neighbouring woodlands while the trees are re-planted.
The museum in Upper Weardale is currently closed for the winter.