Gateshead homes demolition to restart after U-turn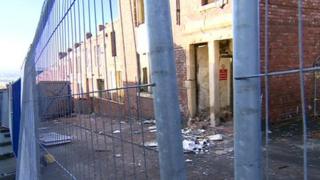 The demolition of homes in Gateshead is set to resume after a court order which stalled it was overturned.
In 2006, the council announced plans for a housing development scheme, which would replace 400 Edwardian-era flats.
There were a number of delays, but demolition began in October. However, a few day's later legal action brought by a residents' group and Save Britain's Heritage forced it to halt.
Following a High Court ruling the work will now go ahead.
The homes are known as Tyneside flats - pairs of single-storey flats within a two-storey terrace, built mostly in the North East in the late 19th and early 20th Century.
Save Britain's Heritage called for them to be refurbished rather than knocked down.
The council said that many of them were empty, and it was trying to provide better quality homes.