Heather Arthur murder trial: Husband found guilty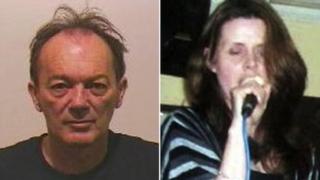 A man who stabbed his wife to death after discovering she was having an affair has been found guilty of her murder.
Mark Arthur, 50, had denied the charge but admitted her manslaughter on the grounds of loss of control.
Heather Arthur's body was found at their house on Woodbine Road in Gosforth, Newcastle, in April.
Her husband said he developed "a sort of tunnel vision" when she said she was leaving him for another man.
During the trial, Newcastle Crown Court heard that Mrs Arthur, 50, had fallen for fellow jazz musician Paul Gowland and was planning to leave her husband.
Mr Gowland told the court she had said she was "walking on egg shells" when she dealt with Arthur.
'Quite controlling'
"The defendant, she told me, took the handles off the door and would not let her in certain rooms, which I thought was a bit strange," the saxophonist said.
"I gathered from that he was quite controlling."
The court also heard she had told him Arthur had installed a tracker on her phone.
Arthur claimed that on the morning of the murder his wife began to say "preposterous" things about him.
Arthur told the court that when she said she was having an affair his blood pressure rose and he could hear his own heart racing.
After stabbing his wife, he tried to perform CPR before running to his doctor in his boxer shorts to get help.
He will be sentenced on Thursday.