Heather Arthur murder trial: Husband's 'tunnel vision'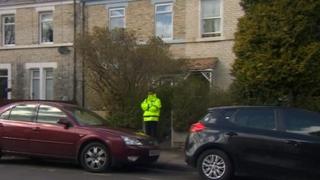 A man has told Newcastle Crown Court that he developed tunnel vision and "snapped" when his wife told him she was leaving him for another man.
Mark Arthur admits the manslaughter of Heather Arthur, whose body was found stabbed at their home Gosforth in April, but denies her murder.
The 50-year-old said she also launched a "tirade" against his character and "everything was out of focus and pink".
After the stabbing he ran to his doctor in his boxer shorts to get help.
The court had previously heard about his "controlling" behaviour, and her lover - a saxophonist in the jazz band in which she sang - had urged her to watch her husband's "every move".
Mr Arthur, who ran an IT company, said he had been anxious that morning, as he was due to get test results from his GP, as he was worried he had cancer.
He told the court that he asked his wife to go with him but she began to say "preposterous" things about him.
"She launched into this tirade which got very personal very quickly," he said.
Heart 'racing'
She then admitted she was having an affair, and told him she was going to seek a divorce.
Mr Arthur said: "The shock of all of this coming out in the way that it did just made me very, very angry and the anger came out.
"My heart was beating so fast I don't know how I did not have a heart attack. It was racing.
"I do remember I developed a sort of tunnel vision, I could only see clearly in this very small area straight ahead in front of my eyes.
"Everything was out of focus and pink.
"Suddenly all the things that had been going on in the past couple of weeks clicked into place and my whole world collapsed in a second. Just like that.
"Everything that I thought I knew has just gone."
He said: "I picked up the knife which must have been right on the desk and then I remember both of Heather's hands wrapped around my hand and at this point I am pulling the knife away from her.
"In the end I remember standing up and pushing forwards and that is when Heather got stabbed."
Attempts to revive her failed, he said, and he "spiralled into despair".
He was arrested at his GP's surgery, and when interviewed by police, told them he had difficulty remembering what had happened.
The trial continues.