Medomsley Detention Centre: More than 200 'new victims'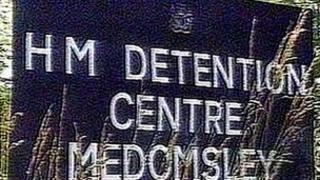 More than 200 potential new sex attack victims have come forward since a BBC programme about abuse at a former detention centre was shown.
Durham Police said it had more than 300 calls about treatment of inmates at Medomsley Juvenile Detention Centre, in County Durham, in the 1970s and 1980s.
Two members of staff at the centre were jailed in 2003 and 2005 over the abuse.
The Inside Out North East programme was shown a week ago and Durham Police said new callers would get counselling.
Before the programme was televised, police had spoken to 143 people - most claiming to be victims.
But after the broadcast, a further 230 calls were received, with the majority saying they were victims.
'Clearer picture'
Dept Supt Paul Goudrey, said: "All those who have rung over the last 10 days will be seen by an officer over the coming weeks and steered towards the appropriate support and counselling.
"Our aims all along have been to gain a clearer picture of what happened at Medomsley, obtain evidence which may lead to a criminal prosecution and, most importantly, to leave the victims in a better place than they were before.
"The recent coverage in the media has brought forward another 230 people who might not otherwise have contacted us."
The centre closed in 1988 after the abuse came to light, but has since reopened as a secure training unit.
Neville Husband, who worked at the detention centre as a prison officer, was jailed for 12 years in 2003, and Leslie Johnson, a store man, was sentenced to six years in 2005.
Both men have since died.