Mark Arthur 'put tracking device' on wife's phone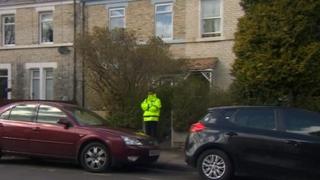 A man who stabbed his wife to death at their Newcastle home had installed a tracking device on her phone, a court has been told.
The body of Heather Arthur, 50, was discovered at the property in Woodbine Road, Gosforth, in April.
Mark Arthur, 50, has previously admitted manslaughter, but denies murder.
Newcastle Crown Court heard that Mrs Arthur had confided to a friend about her husband's "controlling behaviour".
Giving evidence, Rebecca Parker said: "He installed GPS tracking on her mobile phone.
"He said it was so he could track where she was.
"Heather was not happy about it at all."
The court heard Mrs Arthur had also said her husband was "threatening to break things and hurt himself" if she did not do as he wanted.
'Niagara Falls proposal'
She decided to leave him and was speaking to a solicitor about a separation, but had to hide in a shopping centre after he tried to follow her to one appointment, the jury was told.
Mrs Parker said by this stage Mrs Arthur was having an affair with a member of the band in which she was a singer, but she told her friend that her husband had seemed to accept the break up.
She also told the court that her friend was frightened by the way Mark Arthur had proposed to her, 10 years' earlier, at Niagara Falls.
"Apparently he stepped over the railings, down into the mist, onto the rocks, and turned to her and proposed," she said.
"In her mind (she thought) 'Oh my God, what will he do if I say no?' So she said yes.
"I think she thought he would throw himself into the water or something.
"She felt pressure to say yes because of the situation."
The trial continues.