South Tynedale Railway line to get £4m revamp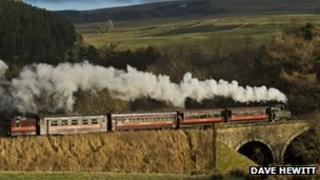 A steam railway line on the border of Northumberland and Cumbria has received a £4m boost to extend tracks and run environmentally-friendly trains.
South Tynedale Railway (STR) will spend the money extending the line 1.5 miles (2.4km) from Lintley to Slaggyford.
It has also been given two battery-electric locomotives which will be charged at Alston Station which is to get solar panels to save on fuel bills.
A 1937 steam engine will be converted into a wood-burning train.
Brian Craven, STR deputy chairman, said the revamp, which is being made possible by the Heritage Lottery Fund, would attract more visitors.
The line is England's highest narrow gauge railway which runs from Alston in Cumbria for 3.5 miles (5.6km) to Lintley in Northumberland.
'Glorious steam age'
The money will also be spent on repairing a 160-year-old wall protecting Alston station from flooding from the rivers Nent and Tyne.
It was flood damaged a year ago and it is hoped repairs will extend its life by at least a century.
Mr Craven said: "We have to attract new visitors and more of them to the lovely South Tyne Valley and our railway."
It is also hoped that new fibre optic cabling for signalling at Lintley Station will bring faster broadband to Slaggyford.
Head of the Heritage Lottery Fund North-East, Ivor Crowther, said: "South Tynedale Railway is an important reminder of our transport heritage and is a fantastic example of the bygone and glorious age of steam. "