Smoke grenades thrown before Tyne-Wear derby match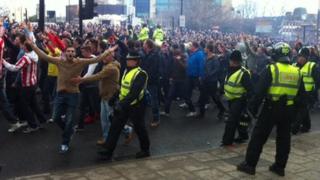 Smoke grenades were thrown as hundreds of Sunderland football fans were escorted through Newcastle city centre ahead of the Tyne-Wear derby match.
The two sets of fans were kept apart by a heavy police presence around St James' Park.
Northumbria Police made ten arrests - three as part of a planned operation before the match, five at the ground and two after the match.
Sunderland beat Newcastle 3-0, their third derby win in a row.
Fans were encouraged to go home on organised free coaches while those returning to Central Station were escorted by police officers.
All the coaches had left without reported problems, Northumbria Police said.
Plans requiring all Sunderland fans to travel to and from Newcastle on official transport were withdrawn following a campaign by supporters.
Ahead of the match, a coalition of Newcastle and Sunderland supporters had urged fans to make the match "a derby to be proud of".
They said neither side wanted a repeat of the disorder outside the ground after the fixture last April, which led to dozens of arrests.
One Newcastle fan, 45-year-old Barry Rogerson from Bedlington, was jailed for a year for punching a police horse during the disturbances on the day of last April's game.
A joint statement by both sets of fans read: "Recent seasons have seen an unwelcome level of hatred and disorder around derby games.
"Genuine fans don't want the authorities to have any excuse to cut ticket allocations or restrict travel in future seasons, we just want a game to remember.
"We can keep the passion, but lose the poison."
Northumbria Police said 1,000 officers had been on duty outside the ground.
Operations Commander Chief Supt Steve Neill said: "The vast majority of fans were well behaved today and the Tyne-Wear derby was celebrated for the fantastic sporting event that it is.
"I'd like to praise supporters from both clubs - they worked well with officers on the ground, were extremely patient and good natured and treated the day in the best spirit.
"The holdback went very smoothly and supporters worked really well with police and stewards."