Houghton landfill site to shut after 17 years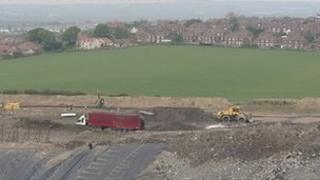 A tip and landfill site at a former quarry on Wearside is to shut after 17 years, a council has confirmed.
Operator Biffa wanted to carry on with tipping at the former Houghton Quarry, despite objections from locals.
But Sunderland Council said it had withdrawn its application and the site would be re-developed.
Biffa did not give a reason for the withdrawal of the plan. The council said the move was "positive".
No Sunderland waste has been sent to the site since 2011.
Permission to tip on the site was given by the now defunct Tyne and Wear Council and it opened in 1997.
'Positive contribution'
The site is a former limestone quarry between Houghton and Newbottle. Almost 3,000 objectors contacted the council when Biffa lodged an extension application in 2011.
Councillor Mel Speding, the council's cabinet secretary, said: "The council has been more than aware of the strong feelings that the site's neighbours have always had.
"The city council has had as many questions as residents have had about the tipping works.
"An end is now in sight to landfill works here and only inert waste, which doesn't produce any chemical reaction, is currently being tipped.
"After restoration, Biffa has consent to develop the site for employment and business use so in the future we can look to Houghton Quarry providing and making a more positive contribution to our community."