Detained Donald Duckling's debts mount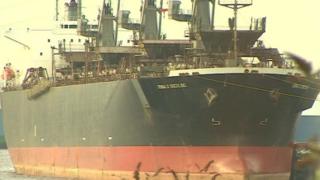 A cargo ship abandoned on the River Tyne has racked up debts totalling tens of thousands of pounds.
The Donald Duckling was detained in North Shields by officials in November after it failed a safety inspection.
The ship's owner, Taiwan-based TMT, has applied for bankruptcy protection in the US with reported debts totalling $800m (£482m).
It now owes thousands of pounds to the Port of Tyne for fuel and berthing fees, as well as £50,000 in crew wages.
The ship's repair bill is estimated to run into hundreds of thousands of pounds.
'Could take months'
The 200m-long ship arrived on Tyneside to load a cargo of scrap metal bound for Korea, but TMT has not carried out the repairs necessary to enable it to leave.
It has been towed to a disused quayside in South Shields where it will stay until the firm makes it seaworthy and settles its arrears.
Port of Tyne harbourmaster Mike Nicholson said: "We don't know how long this will take. It could take weeks, it could take months.
"For the moment, we are just trying to keep it safe, keep it secure and keep it so it doesn't disrupt the normal business of the port because we are really busy."
The government has detained the vessel on behalf of the company that chartered it.
Detention meant its 22 crew members, mainly from the Philippines, were stranded on Tyneside over the Christmas period with little food.
They have now been repatriated with their flights home paid for by the International Transport Workers' Federation.