Tyne and Wear Metro operator fined over delays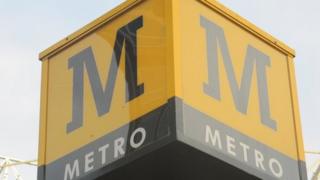 The operator of the Tyne and Wear Metro has been fined £500,000 over delays on the network.
DB Regio has been given the penalties by Metro owner Nexus after problems over the last year.
Nexus said the penalty was mainly linked to punctuality and reliability and that passengers would not see fare rises as a result.
DB Regio accepted there had been "challenges" but said there had been "significant improvement".
It is paid about £37m a year for operating stations and trains on behalf of Nexus.
Performance payments include punctuality and reliability and customer services.
'Suffered problems'
A Nexus spokesman said: "The contract we have with DB includes bonus or penalty payments to encourage the best possible performance, so significant penalties are imposed where the train operator is responsible for delays.
"Metro has suffered problems during 2013/14 and, at this time, £200,000 of additional performance penalties, over and above an original £300,000 budgeted for, are expected to be levied on DB Regio.
"Our passengers will sadly be well aware of the problems last year, though we're pleased to say things have improved a great deal since then thanks to hard work by Nexus and DB Regio."
DB Regio director of operations and customer services Sharon Kelly said Metro had had "some challenges in 2013 which impacted on passengers".
She said: "These penalties are not passed on to customers via fares as these are set and collected by Nexus.
"2014 has started more positively with a significant improvement in service delivery, and we continue to work tirelessly to build on this."