Crosby Garrett Roman helmet attracts 20,000 visitors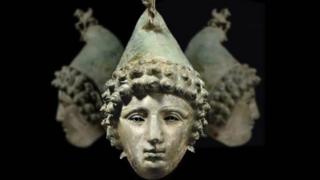 A rare Roman helmet has helped attract more than 20,000 people to a museum in Carlisle.
Tullie House bosses hailed the impact of the "iconic" piece as its three-month display comes to an end.
Visitor numbers have been three times higher than for the same period last year, the museum said.
The Crosby Garrett helmet was named after the village near Penrith where it was discovered in May 2010 by metal detector enthusiasts.
The helmet sold for £2.2m at auction to a private bidder, who allowed it to go on show.
'National treasure'
Andrew Mackay, head of collections and programming, said Cumbrian people had a "direct relationship" with it because of where it was found.
He said: "It's such an iconic object. People have really appreciated seeing a national treasure in Carlisle.
"It's been a fabulous three months. It's blown away all expectations, it's been a delight to be able to show it."
The museum had attempted to buy the helmet when it was auctioned.
It is believed to be one of only three of its kind found in Britain. Experts said it is "remarkable" because it its state of preservation.
Dating from the mid-1st to the 2nd Century AD, it would have been worn, possibly with colourful streamers attached, as a mark of excellence by Roman soldiers at sport parades.
The helmet will now return to the British Museum in London where it had been on show before being loaned to Tullie House following months of negotiations.
Mr Mackay said the museum would like to bring the helmet back, possibly in two or three years.