Tesco to resubmit plans for Stanley store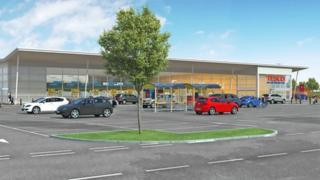 Supermarket chain Tesco says it has revised plans for a new store in County Durham, four years after they were first unveiled.
Proposals for the shop on Clifford Road, Stanley, were mooted in 2009 and given planning permission in 2011.
But Tesco said delays and changes to the plans meant it needed to re-submit its application.
North Durham Labour MP Kevan Jones said the multimillion-pound investment was "desperately needed".
Tesco said a proportion of the store's staff would be local people who have been out of work for a long time.
They would be given support and training to help them compete for jobs in a programme already implemented in Bishop Auckland, Gateshead and Sunderland, it said.
'Committed to coming'
The shop will be smaller than the one outlined in September 2009, creating 250 jobs instead of 400.
It will be built at ground level, rather than on stilts over car parking spaces.
Tesco said discussions with site tenants took longer than expected and changes to the proposals meant it had to reapply for planning permission.
"Shopping habits have also changed a great deal in that relatively short time so we have come up with some new ideas which we hope will be welcomed," Tesco's corporate affairs manager Mark Thomas said.
North Durham MP Kevan Jones said: "I hope this represents a revival in the fortunes of Stanley. We know that developments of this scale tend to attract further investment and that is what the town desperately needs."
Tesco is displaying plans in the Derwent Suite, Lamplight Theatre, Stanley, between 16:00 and 21:00 GMT on 30 January and between 10:00 and 13:00 GMT on 1 February.
The planning application is expected to be submitted in March.