Radioactive waste on A697 crash lorry poses 'no risk'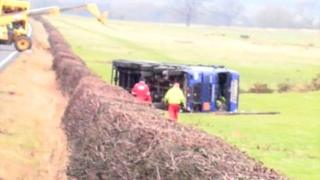 A lorry that came off a rural Northumberland road was carrying radioactive waste.
The A697 was closed between Lemmington Crossroads and Bridge of Aln after the lorry crashed on Tuesday afternoon.
The Environment Agency said material from the oil and gas industry had spilled on to the lorry's trailer.
It added it was "classed as the lowest level of radioactivity" and was viscous and unlikely to flow from the scene.
"It is understood that about six of the drums have been damaged in the incident," a spokesperson said. "However, there is no evidence that any of the material has escaped from the vehicle.
"We haven't found any evidence of any impact on local watercourses or groundwater."
'Safety is paramount'
Northumbria Police said the lorry had been carrying 67 canisters, which were dislodged. They are being removed before the lorry is taken away.
Supt Gillian Mitchell said officers and vehicles were not being checked for radioactivity before coming off site as there was "nothing to indicate that either the police officers or their vehicles are in any risk at all".
The lorry was heading towards Wooler when it crashed but police could not confirm its final destination.
It appears to have veered off the road but the exact cause is being investigated, police said.
The driver was not hurt and no-one else was involved.
The lorry has been removed and the road opened, but police warned repairs to the road surface might require further road closures.