Allen Banks Victorian Suspension Bridge appeal begins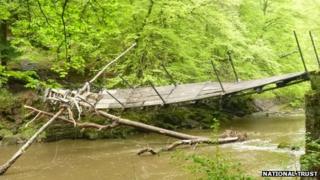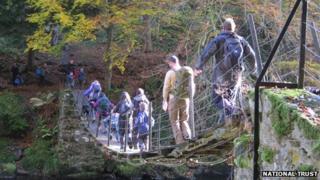 A bridge on a popular woodland trail in the Tyne Valley is being dismantled after it was damaged by floods, but an appeal has started to fund a replacement.
The structure at Allen Banks dates from 1850.
Following heavy rain in May, trees and other debris became entangled in the bridge after being washed downstream.
The National Trust aims to raise £10,000 to restore the wooden planks and fix the original Victorian chains.
This will be added to the £35,000 which has already been pledged through public and private donations.
Eric Wilton, from the National Trust, said: "The bridge is one of the only surviving historic features of Susan Davidson's Wilderness Garden, created in 1850.
"It is one of the key things that makes Allen Banks so special and is much loved by visitors.
"Many people have asked whether we will be replacing it like for like.
"They have made it clear they wouldn't like it replaced with a more modern structure.
"If we raise the funds needed, we can make sure we rebuild it as it was."