Four fishermen rescued from sinking trawler off Tynemouth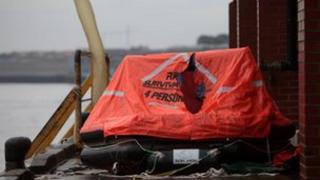 Four fishermen had to be rescued from a raft after their trawler began sinking 30 miles off the North East coast.
The men - two from Maryport in Cumbria and two from North Shields - put out a mayday after their boat began listing off the coast of Tynemouth on Saturday.
The Tynemouth lifeboat was scrambled but a helicopter from RAF Boulmer reached them first and they were winched to safety.
They were flown to hospital where one was treated for a shoulder injury.
Their vessel, the Rachel Jane 4 which had developed a mechanical fault, later sank.
A spokesman for the Humber Coastguard said the crew's mayday call had been picked up by several fishing boats in the area, but the helicopter arrived first.
He described sea conditions at the time as "choppy".