Newburn floods: More flats demolished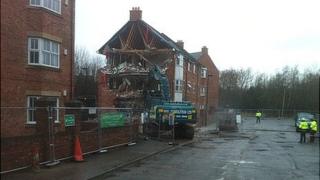 Demolition work has begun on more homes in Newcastle which were hit by flooding in September 2012.
A block of six flats at Spencer Court, Newburn, became unsafe when heavy rain damaged foundations.
A similar block was demolished a month after the deluge caused the collapse of a culvert.
Developer Dunelm Homes said the demolition work was necessary to prevent damage to further properties on the site.
A spokesman for the company said: "It is extremely sad that another block of apartments at Spencer Court has become a victim of the catastrophic events following the culvert collapse.
"The impact on all of the residents at Spencer Court has been shocking and protracted and our sincere sympathies are with them."
A spokesman for Newcastle City Council added: "This is obviously a very sad development for the residents of Spencer Court who have already endured a great deal of distress and inconvenience."
Dunelm Homes owns the land on which the homes stand, while the culvert is on land owned by Northumberland Estates.
The housebuilder has previously said it would make a claim for around £3m from Northumberland Estates.
Neither company has accepted liability.