May Stokoe unlawfully killed by husband James, coroner rules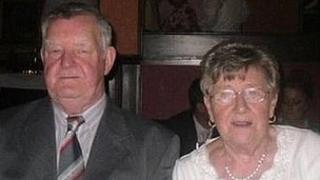 A pensioner who was stabbed by her husband was killed unlawfully, a coroner has ruled.
May Stokoe, 79, was attacked by her husband of 56 years, James, in a bedroom at their Sunderland home before he killed himself.
The inquest at Sunderland Civic Centre heard Mr Stokoe, also 79, had spoken about harming his wife in the weeks leading up to their deaths.
He had also been diagnosed with cancer and had attempted suicide.
Neck wounds
Det Ch Insp Christina Barrett, of Northumbria Police, told the inquest that while the precise circumstances were unclear, it appeared Mr Stokoe, a retired blacksmith, had tried to kill himself in a bedroom at the house in Hylton Castle Road.
But having been disturbed by his wife, a former dinner lady, he proceeded to attack her, before going downstairs and out to the shed to sharpen the knife.
Both died from wounds to the neck.
Mr Stokoe had begun to receive visits from mental health nurses and had talked about the thoughts he was having, the inquest was told.
It also heard that before their deaths in May 2013, some members of the family had hidden items such as knives from Mr Stokoe.
Coroner Derek Winter, who concluded Mr Stokoe killed himself, said he would write to the Health Secretary to impart lessons he thought needed to be learned from the case.