Sunderland wife killer who committed suicide 'heard voices'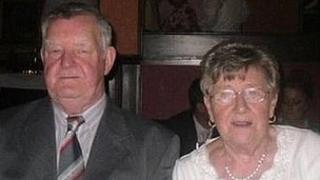 A man who stabbed his wife to death before killing himself had previously complained of hearing voices in his head, an inquest has heard.
James Stokoe and his wife May, both 79, were found dead in a bedroom at their house in Sunderland in May.
The inquest at Sunderland Civic Centre heard Mr Stokoe had repeatedly spoken about harming his wife in the weeks leading up to their deaths.
He had also been diagnosed with cancer and had attempted suicide.
Det Ch Insp Christina Barrett, of Northumbria Police, said: "James Stokoe described things like gremlins in his head telling him to do bad things, like causing his wife harm."
'Never harm her'
Mr Stokoe had begun to receive visits from mental health nurses and had talked about the thoughts he was having, the inquest was told.
Sue Wilmott, a mental health nurse, had visited Mr Stokoe a number of times before the attack and said even though he had spoken of harming his wife, he had always qualified it with the assertion he would "never harm her for the world".
But she also said he had stopped taking an anti-psychotic drug he had been prescribed.
Dr Paul Danson, a consultant psychiatrist, said he had concerns about Mr Stokoe, but they were not critical, and he had offered him the chance to come into hospital but he had declined.
'Barricaded in the bedroom'
The police said the couple, who had been married for 56 years, were discovered on the bed in the rear bedroom of their house in Hylton Castle Road with a knife next to Mr Stokoe.
Ms Barrett said following an investigation it appeared Mr Stokoe, a retired blacksmith, had attempted to kill himself in the bedroom.
But having been disturbed by his wife, a former dinner lady, he proceeded to attack her, before going downstairs and out to the shed to sharpen the knife.
During this time Ms Barrett said Mrs Stokoe had barricaded herself into the bedroom but her husband returned and broke through the door and killed her before killing himself, with both dying from wounds to the neck, the inquest heard.
The inquest continues.