Stranded Donald Duckling cargo ship crew return home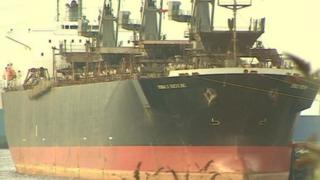 The crew of a cargo ship detained on the River Tyne since November have flown home to the Philippines.
Eleven sailors on the Panama-registered Donald Duckling departed from Newcastle Airport, leaving the Romanian captain and chief engineer on board.
The Maritime and Coastguard Agency has held the ship at the Port of Tyne in North Shields over safety concerns.
Tommy Malloy, of the International Transport Workers' Federation, said it had been an "awful situation".
"They arrived in the UK with very little fuel and food and ran out of both very quickly.
"It is only the good nature of the people of Tyneside which has been keeping the crew going."
'So relieved'
The ship had arrived on Tyneside to load a cargo of scrap metal bound for east Asia.
The crew had not been paid for two months before the ship was detained in the UK, according to Mr Malloy, and had been short of food.
He said they had now been paid for that period but have yet to receive a payment for December and January.
Mr Malloy added the men made many friends in the North East, but were "so relieved to be going home because conditions on that ship were absolutely appalling".
Support has also been provided by the Mission To Seafarers charity in South Shields.
The ship's owner, Taiwan-based TMT Group, has applied for bankruptcy protection in the United States.
The fate of the Donald Duckling remains unclear. TMT has yet to carry out the repairs necessary to enable it to leave the river.