Clean-up of Newcastle's St Anthony's Tar Works on hold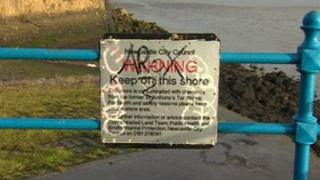 Plans to clean up a former tar works site which is polluting the River Tyne have been put on hold because of government cutbacks, a council said.
Newcastle Council says it needs £2m to clean up land at St Anthony's Tar Works on Walker Riverside.
The Department for the Environment, Food and Rural Affairs (Defra) had been due to pay £2m to clean up the site.
Defra said it was "regrettable" the work was on hold but councils needed to prioritise spending.
The council was given £400,000 of government money to investigate the problem after dog walkers using the area around the site complained of headaches.
Causing headaches
Investigators found more than 20 litres of tar were seeping into the Tyne from the works, which shut in 1983, every day.
Phil Hartley, the council's land contamination specialist, said that despite the pollution, work to tackle the problem was on hold.
He said: "If you are on the site you suffer a headache pretty quickly- we tend to wear masks when we go down there."
Nick Brown, Labour MP for Newcastle East, said the site needed to be cleaned up urgently and he would be raising the matter with Defra.
In 2009, Defra had a budget of £17.5m to help councils clean up old industrial sites but that budget has since been reduced to £2m.