Newcastle and Sunderland attack police over derby kick-off times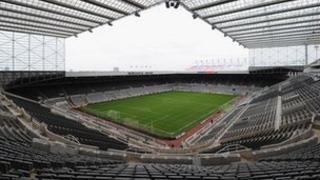 Newcastle United and Sunderland have dubbed claims by Northumbria Police that the force cannot alter kick-off times "false and absurd".
Northumbria Police said it "cannot direct changes" to kick-off times or control ticket and travel restrictions.
Both clubs want to have later kick-off times which would suit broadcasters.
Fans of the clubs joined forces to protest against plans to make away supporters travel to matches on official supporter coaches.
The row comes ahead of the Tyne-Wear derby at St James' Park on 1 February.
Northumbria Police said the "transportation issue" had been discussed between both clubs and the police and the decision was was aimed at "ensuring the safety of their supporters".
Assistant Chief Constable Jo Farrell said: "As we have said previously Northumbria Police cannot direct changes to kick-off times or control the issue of tickets and how supporters travel to matches.
"The condition of ticketing and transportation to St James' Park is a contractual issue between the club and supporters and is not something Northumbria Police is involved in.
"We cannot and will not direct supporters on how they travel to the game."
'Rejected every request'
In a joint response, the clubs said terms and conditions of ticket sales for the 1 February clash, which previously stated Sunderland supporters must attend the game on official transport, would be changed.
Both clubs said they were "surprised and disappointed with the statement issued by Northumbria Police in which the force claims that the police cannot direct changes to kick-off times for the clubs' fixtures, referring in particular to the derby games".
The statement added: "Over a number of years both clubs have made repeated representations to Northumbria Police to try and reach agreement over kick-off times to enable a traditional 3:00pm kick off or later to enable broadcasters to give the game consideration in the majority of their time slots for live coverage.
"In recent years Northumbria Police have rejected every request made by the clubs for later kick-off slots including Saturday 5:30pm, Sunday 4:00pm and Monday 8:00pm.
Martyn McFadden, editor of Sunderland football fanzine A Love Supreme, said: "I think it's a great decision, I think the club has listened to the fans and they've realised that it's better to consider the fans in this situation.
"The statement the police put out was almost unbelievable, so the two clubs have got together and the two sets of fans have got together and it's no longer happening, so I'm delighted for all the fans."
Both clubs said they "have evidence in the form of considerable written correspondence... that Northumbria Police would not be prepared to police the evening fixtures requested previously, as well as their confirmation to the Premier League in writing in January 2013 that the force would not support derby matches with kick-off times later than 1:30pm".
The clubs said: "For Northumbria Police therefore to issue a statement stating that they do not direct changes to kick-off times is quite frankly false and absurd.
"In light of Northumbria Police's latest statement, Newcastle United and Sunderland AFC will now inform the Premier League that all future fixtures between the two clubs will be available for kick-off times to suit the clubs, the League and their broadcast partners, if applicable, and will expect Northumbria Police to police these games, especially given the considerable costs both clubs incur for such special police services."