Run Geordie Run Mark Allison lands back in Newcastle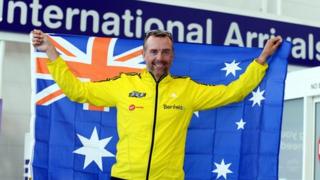 Charity runner Mark Allison has arrived back in the North East after his 2,400-mile trek across Australia.
Mr Allison, known as Run Geordie Run, landed at Newcastle International Airport earlier having raised almost £50,000 for good causes.
The 42-year-old had reached Shellharbour on Australia's Pacific coast at 23:50 GMT on Saturday.
He said: "It's been an incredibly difficult journey and it's great to be back in one piece."
Speaking in the arrivals hall of the airport, he described the run as a "rollercoaster" and said: "I have been to the brink physically and mentally.
"I'm just so relieved to have got to the finish line in one piece, which is more than can be said of my luggage. Apparently it's in Dubai!"
Thoughts of family
Mr Allison, from Blyth, Northumberland, set off from Perth in October.
He was just 180 miles from the finish last month when he decided it was too dangerous to continue because his route followed a busy motorway.
But within 24 hours he had changed his mind and decided to follow a more difficult, but safer, path.
However, even after completing his journey across Australia there were further struggles as the car he was using to get to the airport broke down - making him late to catch his flight to the UK.
The money he has raised will be donated to the Sir Bobby Robson Foundation and The Children's Foundation.
He said he had managed to run about 40 miles a day by thinking of his family. Both his parents died of cancer.
In 21 years he has now raised more than £200,000 for good causes.