Geordie Shore star Vicky Pattison admits shoe attack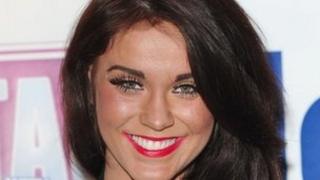 A star of the reality TV show Geordie Shore has pleaded guilty to assault after hurling her shoes at a woman during a bar brawl.
Vicky Pattison, 25, of Wallsend, North Tyneside, lashed out after being hit by ice at Florita's Bar in July last year, Newcastle Crown Court heard.
She wrongly thought victim Hannah Kelso, 18, who needed four stitches, had thrown the ice.
Pattison admitted two counts of assault and will be sentenced next month.
Judge Brian Forster QC told Pattison she would not face jail.
The hearing heard that she began arguing with Ms Kelso and then threw her shoes at her when security staff tried to pull her away.
Show suspension
A member of bar staff also suffered a cut lip during the fracas, the hearing heard.
Anthony O'Donohoe, mitigating, said Pattison did not mean to injure her victim and had admitted it was a "reckless act".
He said she mistakenly thought the ice had come from the booth Ms Kelso was in.
Judge Forster QC said: "I have looked at the summary of this case, I take into account your character and can indicate to the court that I will not consider any form of custodial sentence."
Pattison was suspended from the MTV show after the attack.