Whitley Bay coast car plunge woman rescued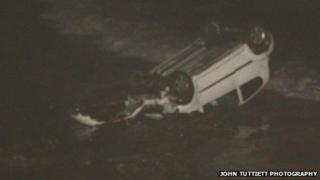 A woman was rescued from her car when it plunged through railings on the Tyneside coast and landed on its roof with the tide coming in.
The car left the road leading to St Mary's lighthouse, Whitley Bay, shortly after midnight.
Emergency services found the car below the high water mark with the tide approaching.
The woman was treated in hospital for suspected pelvic injuries, but was later discharged.
Members of the Tynemouth Volunteer Life Brigade and Blyth Coastguard Rescue Team worked with police, firefighters and the North East Ambulance Service on the rescue.
Northumbria Police said the woman's injuries were not life threatening. The force said the vehicle would be recovered later and appealed for witnesses.