Run Geordie Run Mark Allison ends Australia challenge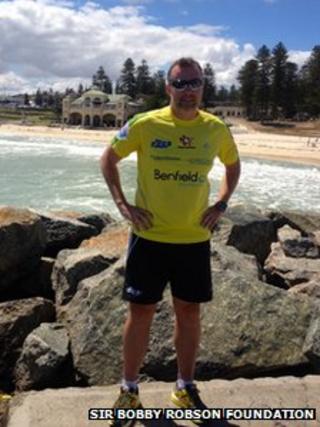 Charity runner Mark Allison, known as Run Geordie Run, has been forced to give up an attempt to run 2,600 miles across Australia on safety grounds.
The 42-year-old, from Blyth, Northumberland, set off from Perth in October with the aim of running 41 miles a day for 70 days.
However, he has stopped the challenge after 73 days at Yass, 180 miles from the finish in Sydney.
Mr Allison said it had been a "really tough" decision to end the challenge.
He said he had "too much left to do".
"I've reached the motorway section of the run, which was always going to be a potentially dangerous bit.
"But, because I've run low on time, I'd need to be running at least two hours a day in darkness and without a support vehicle.
"This isn't a decision I've taken lightly, but ultimately I can't put myself at that kind of risk."
Mr Allison began raising money for charity to honour the memory of his loved ones - his mother, who died in 1995, his father Terry, who died of cancer in 1988, and his brother David, who died from a brain haemorrhage in 1998.
In 2011, Mr Allison ran 3,100 miles across America and raised more than £100,000 for charity.
'Pretty numb'
His Australian challenge, in which he ran 2,267 miles from Perth to Yass, has raised £37,000 for the Sir Bobby Robson Foundation and The Children's Foundation.
He had hoped to end his challenge on Christmas Eve at Bondi Beach, Sydney, but ran into complications.
Mr Allison said the run "should have stopped" in November when he was "struggling" with extreme heat and foot injuries in Nullabor.
"My feet were pretty much destroyed," he said.
"I've never known pain like it and I'm proud that I wasn't defeated then.
"My feet are pretty much numb now, which is another concern. I don't know what I'm running on because I can't feel it. I know in myself, it's time to stop."
Sir Bobby's son, Mark Robson, said the charity supported Mr Allison's decision to stop and was "extremely proud" of what he has achieved.