Volunteers restore historic South Shields lifeboat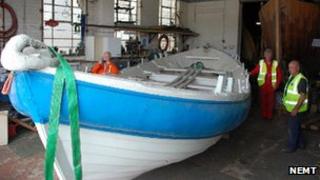 One of Tyneside's most important examples of maritime heritage has been restored to its former glory.
The Grade II listed lifeboat, known as The Tyne, was built in 1833 in South Shields and was used to save more than 1,000 lives in its 60 years of service.
A team of 30 volunteers have spent four months restoring the vessel at workshops of the North East Maritime Trust (NEMT) in the town.
It will return to its permanent home at the town's Pier Parade early next year.
'Future generations'
NEMT director Tim West said: "The preparation for the practical work involved a great deal of research. We managed to find out how and exactly where the lifeboat was damaged during a World War Two bombing raid in 1941.
"We would like to thank all of the volunteers who donated their time to work on this programme.
"The whole process has captured the imagination of the public, and they will be able to enjoy the results when the vessel is put back on display next year."
The restoration has been paid for in part with cash from South Tyneside Council's Riverside Community Area Forum.
A council spokeswoman said: "The Tyne lifeboat is a very symbolic piece of our local heritage that needs to be preserved and passed on to future generations."