Rent taken early from North Tyneside Council tenants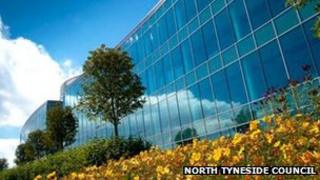 Hundreds of council tenants on North Tyneside have had rent taken from their bank accounts two weeks early.
Some of the 2,600 people affected only realised when their cards were declined. One tenant described it as "very embarrassing and worrying".
The council apologised for what it said was an administrative error and said it was working to reimburse people as soon as possible.
It also said there would be a thorough investigation into what happened.
The direct debit was due to be taken out on 2 January.
Close to Christmas
Gavin Sharp, a council tenant in Annitsford, said: "We noticed when my wife was at the supermarket and the card was declined.
"We then went to check the bank account and found out what the problem was.
"Thankfully, we've spoken to the bank and they've been very understanding.
"We're fortunate in that I've been able to do that, but I feel sorry for others who may not have been able to do so, especially with it being so close to Christmas and near the weekend."
North Tyneside Council said in a statement: "Our priority is returning the money to those affected.
"We have been working with our bank to return as many payments as possible directly into individual accounts today.
"Everyone who has not had their payment refunded will receive this on Monday.
"However, anyone who has not yet received a direct repayment and who wants their money in cash can collect it from our Quadrant headquarters between 9am and 4pm on Saturday and Sunday."