Grenaa Star refloated after Tynemouth pier collision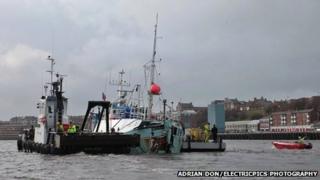 A fishing boat left partially submerged after it was damaged in a collision with a pier has been refloated.
The Hartlepool-registered Grenaa Star hit Tynemouth's South Pier before beaching in Littlehaven, South Shields, on Tuesday.
Working at low tide earlier, salvage experts made the hull waterproof enough for the vessel to be pumped out.
A barge and a work boat then helped transport it to a shipyard, where its fate will be decided by the insurers.
The boat's 53-year-old captain suffered a head injury when it struck the pier.
Following treatment, he was arrested on suspicion of being a master, pilot or seaman unfit through drink and later bailed.