Christmas support for stranded Donald Duckling crew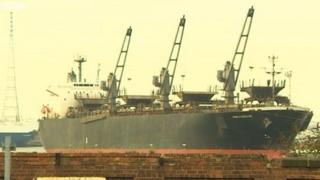 The stranded crew of a cargo ship, detained on the River Tyne for five weeks, are to be given Christmas Eve lunch by fellow seamen.
The Maritime and Coastguard Agency (MCA) said the 16-year-old Panama-registered Donald Duckling could not leave because of safety issues.
One of the 18-man crew has returned home to Romania, at his own expense.
Those remaining have been given options for Christmas and a number of agencies are working to support them.
Staff from DFDS Seaways are offering them lunch on Christmas Eve and they are also being supported by the Mission to Seafarers in South Shields.
'Overwhelmed by generosity'
The ship's owner, Taiwan-based TMT Group, has applied for bankruptcy protection in the United States. No-one from the firm could be reached for comment.
Officials from the MCA and the International Transport Workers' Federation (ITWF) have been in talks with TMT and the Panamanian authorities in an effort to get the remaining 11 Filipino, five Romanian and one Indian crew members get home.
The Port of Tyne has provided a lay-by berth and power supplies to the ship and has worked with the seafarer's mission so the crew have food, provisions and mobile phone connections.
Mission welfare officer Dianne Erskine said the crew had been overwhelmed by people's generosity.
She said: "They are hoping that things might be resolved soon, but at this stage are planning to have a quiet Christmas together, with friends from the Philippine community in the North East and other seafarers including some of the crew of the DFDS ferry who may be in the area at this time."
'Conditions not good'
Max Foster, passenger director with DFDS, said a delegation of staff would be going on board on Tuesday to serve up a festive meal.
He said: "Of course we hope the crew get home. But if they are still stranded here will be going on board to make sure they have a good meal on Christmas Eve.
Tommy Malloy, of the ITWF, described the situation as "frustrating".
He said: "TMT have let this crew down. The conditions on board are not good.
"We have managed to get them some wages, but the company needs to honour their contract with these men and get them home."