Grenaa Star captain arrested over Tynemouth pier crash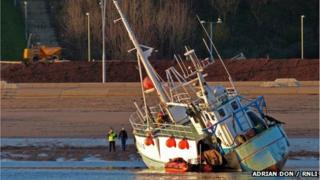 The captain of a fishing boat which crashed into a pier has been arrested on suspicion of being drunk.
The 60ft (18m) Grenaa Star collided with Tynemouth's South Pier early on Tuesday and began taking on water.
The 46-tonne Hartlepool-registered vessel was eventually beached at nearby South Shields.
Northumbria Police said the 53-year-old man had been arrested and bailed on suspicion of being a master, pilot or seaman unfit through drink.
He was treated in hospital for a head injury sustained in the collision. Two other crew members were unhurt.
The pier was not badly damaged.
An investigation into the incident is continuing.