Lottery winners Kim and Ian McCarthy still have £750,000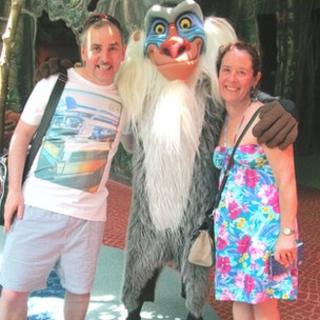 A couple who won £1m on the Lottery still have most of their windfall left - a year after their Christmas Day win.
Ian McCarthy, 49, and his wife Kim, 51, from Washington, immediately withdrew £100,000 and gave 30 family and friends cash gifts.
They also spent £20,000 taking sons Anthony, 27, and Jonathon, 21, on an expenses-paid trip to Florida.
But a year on they have £750,000 left and plan to invest it. Car plant worker Mr McCarthy is also still working.
The couple, who still live in their three-bed terrace house, did not realise they had won the money until 10 days after the draw when Mr McCarthy remembered to check the numbers.
Mrs McCarthy was at work as a bingo hall supervisor when she got the news, but carried on with her shift.
She said: "Ian actually came to work to tell me, but then I carried on at work. I kept bursting into tears and people thought there was something wrong with me."
Butlins again
In July, the couple have three special occasions to celebrate - son Anthony marries fiance Denise, they celebrate their 22nd wedding anniversary and Mr McCarthy turns 50.
They are planning to give the couple their house and treat 250 guests to a lavish wedding.
Mrs McCarthy said: "We are not an extravagant couple - the first thing we did was to book the holiday, neither of us had a passport or had ever been abroad.
"It was fantastic - all inclusive. But apart from that we haven't spent the money.
"I gave up work in September but the amount of interest we earn on the money is as much as I used to earn at the bingo hall.
"But we will still be going to Butlins this year - same as every year."
As with previous years before their lottery win, they will be spending Christmas with family at home - but will spend more money on presents.
They are also hoping to buy a new, five-bed detached house with a jacuzzi in Fatfield in Washington, to be near family.
Mrs McCarthy said they had also not had any "begging" letters or even felt that people were resentful of the family's good fortune.
"People have been lovely, saying 'it couldn't have happened to a nice couple'," she added.