North East people help homeless keep warm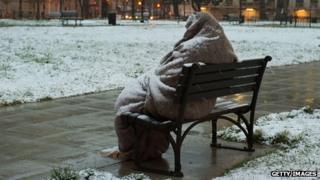 Kerry Davison was sitting in her dressing gown snuggled up with a hot water bottle when it struck her she wanted to do something to help those without a roof over their heads.
She had an idea to set up a Facebook page to rally people in Newcastle together to donate food, clothing, rucksacks, sleeping bags, gift cards and "anything that could help save someone's life".
Within days of her starting the Making Winter Warmer Newcastle group in November there were more than 1,500 members and now there are more than 4,000.
She said: "I thought 'I'm here sitting here with all these comforts and there's people out there that don't have them' - I'd love to go and give them my hot water bottle and keep them warm for the night.
"I thought if I can do that, someone else can do that. So I put it on Facebook and shared the page and within days it had more than 1,500 members."
Ms Davison continued: "I thought it would be nice if I could pack up a little parcel with things that will keep people warm with a flask and tin of soup.
"If all of those people on Facebook do that, we can help every homeless person in Newcastle and beyond."
She is hoping to pack 150 rucksacks worth of potentially life-saving goods for the homeless.
She said: "We have had about 10 huge boxes of coats donated, and maybe 30 huge boxes of men and women's clothing.
"It's wonderful the kindness that lies in the people of the north, everybody wants to help, but not everybody has the time to volunteer or knows where to turn to help, we now have a point of call and this way they can do that and know that its going to the people who need them the most."
About 20 drop of zones have been set up around the North East with a base at Angels of the North charity in Whitley Bay and plans to distribute by Christmas.
Ms Davison added: "I think the most surprising thing has been the kindness, the little things people are putting in like a box of chocolates and a Christmas card, the things we discard most Christmas and birthdays, but when you see them going in to a rucksack and you know that rucksack may contain the only worldly possessions someone may have, it seems so much."
On Teesside, the Members Room at Middlesbrough's Town Hall was transformed into an impromptu stock room.
Middlesbrough Council has been collecting unwanted coats and fleeces through its Wrap Up appeal.
Scott Copeland has spent six months sleeping on the streets, struggling with his drink and drug addiction.
He felt he had no choice but to come along to pick up a coat to help battle with the cold nights.
He said: "They look at you and think 'drug addict' but I look at them and be honest and explain my situation.
"It was terrible, it was winter and the situation was awful and there wasn't much support where I was."
Clothes rails show off the hundreds of coats, fleeces and jumpers that have been donated by members of the public intended for the homeless.
More than 400 items have been donated.
Sharon Caddell, from Middlesbrough Council, said: "It's really sad in this day and age that we've got people in this much need.
"It feels like we're addressing the symptoms rather than the causes."