Science Central: Newcastle University invests £50m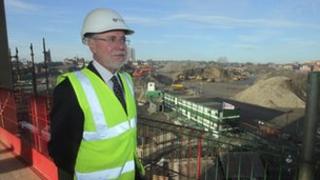 Newcastle University will invest £50m in the next phase of the city's Science Central development, it has announced.
It wants to create a "living lab" where new technologies and systems can be tested on the 24-acre science, business and residential site.
Vice chancellor Professor Chris Brink said the area could be an "exemplar of urban sustainability research".
The plans include an Urban Observatory to collect data on traffic flow, air quality and extreme weather.
Researchers are already investigating new navigation systems in vehicles which can warn drivers of dangers or problems on the road.
Sensors are collecting information on air quality so traffic can be re-directed to reduce pollution.
Another project will analyse information about travel and energy use so it becomes "meaningful and useful", director of the university's Digital Institute Professor Paul Watson said.
The £50m research facility, on the site of the former Scottish and Newcastle brewery, is expected to be running by 2017.