High speed trains from Newcastle to London planned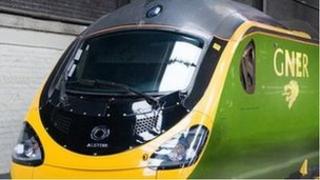 Plans to introduce new high-speed trains between London, Newcastle and Edinburgh have been announced.
Alliance Rail Holdings, part of the Arriva group, said the "pendolinos" could potentially cut journey times by up to 40 minutes.
The firm wants to use tilting trains on a curved track from 2016.
Its plans are due to be submitted to the Office of Rail Regulation in January. The line is currently operated by the government-backed East Coast.
Ministers want a private franchise to take over the line from 2015, a move opposed by Labour and the RMT union.
Alliance is not bidding to take over the franchise for the line, but would operate rival services from 2016 under competition rules if the proposals were approved by the regulator.
The firm would use the Great North Eastern Railway (GNER) brand.
Alliance owns rights to the name, which was last used in 2005 before the line was taken over by National Express.
The line was put under government control after National Express got into financial difficulties.
A spokesman for Alliance said faster journeys would add to "the appeal of the train as being greener and easier than flying."
The project aims to cut the travelling time from London to Edinburgh from 4 hours 20 minutes to 3 hours 43 minutes. From London to Newcastle would take 2 hours 29 minutes.
The spokesman said the plans were in their "very early stages".